This character has been used under the following names below. Navigate using the arrows or by clicking on a name listed on the navigation bar to jump to a specific character name you want to read.
← Previous
|
Other characters for Jigglypuff
Jigglypuff • Zila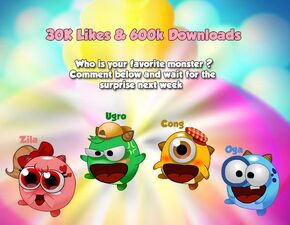 Zila is a pink monster who is one of the monsters who love to eat sugary sweets in Sugar Tales. The character in the game is unlockable by purchase. The character has more moves than Oga has when playing as this monster. Unlike Kirby, she doesn't suck all the foods at once much like a vacuum.
Zila is an extremely rare variant of the Pokemon named "Jigglypuff" that is developed by Artlogic Games for their flash game hosted on Facebook. Zila has horns, red eyes instead of green, pony tails with the ribbon and no ears compared to the original Jigglypuff character. It is also a non-canon appearance as well.
Trivia
Sugar Tales is the only flash game that this Jigglypuff variation has ever been found outside the Nintendo franchise.
Community content is available under
CC-BY-SA
unless otherwise noted.