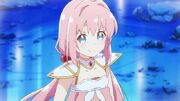 Yulia Chardiet(ユーリア・シャルデット|Yūria Sharudetto) is an Main Protagonist of Endro~!.
Profire
Title(s): Yuusha, Yu-chan
Gender: Female
Eye color: Navy Blue
Hair color: Pastel Pink
Family: Unknown
Voice Actor: Akao Hikaru (Japanese), Amanda Lee (English)
About
energetic girl who aspires to become a hero. While generally dim-witted, she has an incredible amount of luck and an unpredictable nature.
Personality
Yusha is energetic and although she is as clueless as she can be, she is extremely lucky and unpredictable. Instinctively she helps people in need, not out of obligation as a Hero, but because she is who she is. She is also very optimistic and very kind to everyone and never gives up until the end. Traits that show that she is a heroine. As he said in the first episode, all she wants is to live in a land where everyone can be happy and live in peace.
Gallery
Community content is available under
CC-BY-SA
unless otherwise noted.