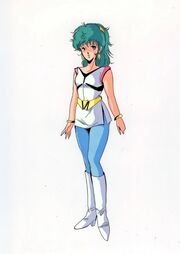 Yui Takanaka is a Charcter of the Megazone 23.
About
Girl of Loneliness who is doing Part Time Job at Hardrock Cafe of Roppongi while dreaming of standing at the Broadway Stage at Egg of Dancer.
On the way to Harajuku Piazza Building, I got acquainted with Shougo Yahagi at Shibuya and it got hit by Shougo one day.
Although I was ready not to leave Pillow Sales to get Protagonist (Heroine), I forced sexual activity beyond Kiss at the hotel invited to Producer, where I was forced to do Shougo who was helped by Shougo who came in Garland I will be attracted and eventually ties Physical Relationship as Lover.
I lived in Loft with Tomomi Murashita and Maikuma Mai, but it is separated from Shougo and Mai by the death of Tomomi.
PlayStation 3 Adventure Game "Megazone23 The Blue Garland" set in Parallel World a few years from "PART II" will appear as Mother of Hiroto Takanaka, but in Prologue it will bear Serious by Army's Raid.