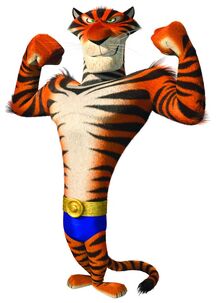 Vitaly (voiced by Bryan Cranston in a Russian accent) is a Siberian tiger that leads a traveling circus in Madagascar 3: Europe's Most Wanted.
The tough Vitaly once jumped through flaming rings of fire to excite crowds, constantly pushing himself to the limit by jumping through smaller and smaller rings that seemed impossible for his size while lubricating himself with olive oil. But after losing his confidence and more than a few of his hairs on one fateful attempt which involved a flaming ring that would only fit on the smallest finger (due to the olive oil being flammable), he also lost his passion and his act partially. When Alex and his friends plead with the circus to let them escape on their train, Vitaly is the most resistant, only to be overruled by Gia. When the zoo animals purchase the circus, Vitaly remains the most hostile to their changes to the business, even as the rest of the crew becomes inspired.
In London, Vitaly decides to give up and prepares to leave just before the circus' critical performance. Alex confronts Vitaly and reminds the tiger of his love of performing and while suggesting he uses hair conditioner as a safer lubricant before regaining his courage to jump through the tiny flaming hoop. As a result, Vitaly's stunt is performed perfectly to open the successful show. With that, a profoundly heartened Vitaly becomes a fast friend of Alex. Even after the zoo animals are exposed and estranged from the circus, Vitaly is the first to support Gia's proposal to rescue their new friends from the zoo and plays a key role in that operation.