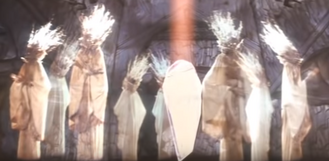 The UrSkeks are a race of beings from The Dark Crystal. They are the original forms of the skeksis and urru (better known by the people of Thra as the mystics). When attempting to use The Crystal Of Truth to rid their hearts of its darkness, it instead split them into the two separate races. From being born of the crystal the skeksis desired to remain separated from the urru so they broke a shard off of the crystal to corrupt it into The Dark Crystal and remain separate from their urru counterparts. It is from then on that the skeksis took the castle of the crystal for themselves and ruled the land of Thra with an iron fist while the urru moved to a valley to practice philosophy.
List of UrSkeks
Community content is available under
CC-BY-SA
unless otherwise noted.