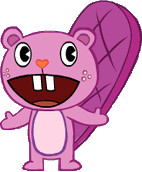 Toothy is one of the main characters in Happy Tree Friends, and one of the four primary characters of the show, along with Cuddles, Giggles, and Lumpy.
Character Bio
A freckled light purple/mauve beaver with very large, gapped teeth (from which his name is derived), which appear to have a diastema. Although his character description on the official site says he has "big ol' buckteeth" larger than the other characters, in Season 2, he occasionally has the normal buckteeth. He is generally a very friendly character who likes to play around now and then, particularly with the younger characters. He admires Splendid, possibly because the latter saved Toothy in the episode Better Off Bread), and even dresses up as him for Halloween. He is good friends withCuddles as seen in Spin Fun Knowin' Ya, Class Act, From A to Zoo, Remains to be Seen, Who's to Flame?, Take a Hike,Snow Place to Go, Blast from the Past, Can't Stop Coffin, Autopsy Turvy (Double Whammy Part 2), Party Animal, Concrete Solution, Wrath of Con and the Strain Kringle. He is also good friends with Giggles, Sniffles, Lumpy, and Petunia. Toothy is one of the primary characters in the show, as he appears in many commercials and advertisements.
Credit
Community content is available under
CC-BY-SA
unless otherwise noted.