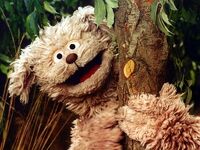 Tommie is a doglike character from Sesamstraat, the Dutch co-production of Sesame Street.
Tommie is six years old. He is clever, energetic and creative and likes to invent things. He is also a little naughty and likes to do things his own way. Tommie can write a few words, including his own name, which he is very proud of. His best friend is the mouse, Ieniemienie.
Tommie is famous for his own made up exclamations, like "Poe hee!" and "Hotseflots!", and wearing all sorts of objects on his head. In the 2005-2006 season, Tommie got his own racing car.
Tommie has been around since the first episode in 1976. The first Tommie puppet was made by producer Ton Hasebos from his wife old fur coat. He was a teddy bear-like creature that walked on all fours, lived in a crate (in order to hide his puppeteer) and invented machines that would usually explode. Through the years he evolved from a 'teddy bear' kind of creature to a more doglike animal, and is occasionally referred to as a dog. Tommie's later look, which was introduced in 1981, was designed by the Muppet Workshop, and has a lot more fur on his face.
Tommie has had a few different performers, including Stef van der Linden in 1976 and Martin Pragt in 1978. In 1979, Bert Plagman became Tommie's performer, after sharing the part with Martin. Renée Menschaar (Pino's performer) and Judith Broersen (Purk's performer) both started their Sesamstraat careers as Tommie's right hand. Nowadays, Daphne Zandberg performs Tommie's right hand.
Tommie is not the only one of his kind. In dream sequences from the mid-nineties, Tommie frequently visited the moon where he met up with another Tommie who looked and sounded exactly like him. When waking up, Tommie would find a moon souvenir by his bedside.