| | |
| --- | --- |
| |105px]] | This article is a stub. You can help Fictional Characters Wiki by expanding it. |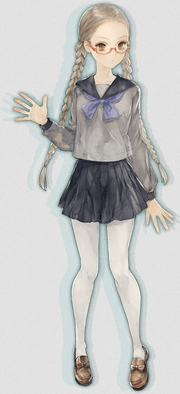 Tomi Kisaragi is a Protagonist is 13 Sentinels: Aegis Rim.
About
A petite Girl with long white hair. I am wearing red-framed glasses. Tomi is read as "Tomi", but is called by his friends under the nickname "Usami." A female high school student attending Sakura High School. 1 year group B. It is a casual act, and it is easy to look cheeky, but it has a smart mind and the strength to overcome adversity. A future person who came from the ruined 2025 and is a friend with Megumi Yakushiji. He was good at singing, and in the old days he had a hobby of posting his own singing videos. He was rescued by Renya Gouto after being attacked by Monster in 2025, and in 1985 he lived as a normal schoolgirl. At Sakura High School, while hiding being a future person, I get along with Iori Fuyusaka and Miwako Sawatani. When Sawatani and his childhood friend, Nenji Ogata, tried to find the secret about Shikishima Heavy Industries in order to return to the future, they were blown away with Ogata and Sawatani in 2025 when they were abandoned by a mysterious light. Machine Soldier's Activation Marker is Left Side of the Waist.