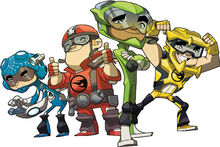 Team Hot Wheels is a group of four kids named Gage, Wyatt, Brandon and Rhett.
Members
Gage (voiced by Grant George): is totally chill. He's full of real confidence and a natural born leader. When Gage gets behind the wheel of his souped-up lime-green Twin Mill he lets loose as the ultimate speed demon and explodes into high-octane action!
Rhett (voiced by David Lodge): is one-of-a-kind! He's sometimes silly, unpredictable and always a little offbeat. He has a larger than life quality and ok; he eats a lot of pizza. He was born with an uncanny ability to diagnose mechanical problems without even looking under the hood! That particular gift comes in handy for a team of skilled racers.
Whyatt (voiced by Nicolas Roye): What you see is what you get with Wyatt! He's tough and definitely doesn't have a confidence problem. Wyatt was raised in the swamps of Louisiana. That explains why he's the best at off-roading, tearing it up in his yellow Baja Truck! It also explains his fondness for the whole "mud splattered" look he has going on.
Brandon (voiced by Benjamin Diskin): is a high-tech genius who combines speed with gadgets for the edge in any race. A true pro when it comes to using technology to help the team, he's the go-to guy for upgrades! Brandon drives the super-slick Quick 'n Sik and he knows that racing is as much about smarts as it is about speed.
Gallery
Community content is available under
CC-BY-SA
unless otherwise noted.