Jurassic World: Dominion Dominates Fandom Wikis - The Loop
Play Sound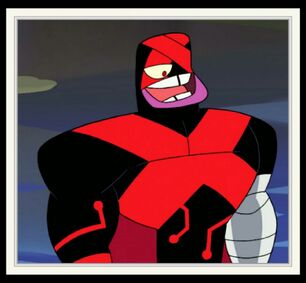 Strike was the main antagonist of "Crossover Nexus", which was his first and only appearance.
Quotes
"K.O.: What⁉, me I-I'm still just a hero in training.
Strike: Yeah, I don't care."
Strike preparing to blast K.O..
"If these heroes don't want to stay and play, I'll just have to pin them down."
Strike sending his blaster to hunt down the heroes.
"Four-Arms: What is it waiting for?
Strike: (Laughs) Me.
Four-Arms: What⁉
Strike: I programmed old blasty here to corner you—not to destroy you.
Four-Arms: Oh. Phew!
Strike: (Chuckles) I'm gonna do that myself."
Strike after cornering the heroes.
"And now to start my incredibly long, un-interruptible power-up sequence. Ra-a-a-a-a-a..."
"...a-a-a-ah‼ There. Fully powered and ready to face heroes who are powerless. Now...huh? Where'd they go?"
Strike upon finishing his powering up sequence.
"Oh, there you are. Ha! Goody. Now, perish! Wah‼"
Strike facing the heroes for the last time.