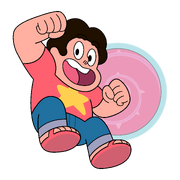 Steven Quartz Universe is the main protagonist of the show by the same name. He is a member of The Crystal Gems, and the only one who is a male.
History
He is the son of Greg Universe and Rose Quartz, although he could not spend time with his mother because she had to abandon her physical form to be able to give birth. His first days of birth was raised exclusively by his father, alternating between Vidalia's house and Greg's van, however when his moods began to influence the brightness of his gem and to annoy him that his gem was covered by his He had to ask for help from The Crystal Gems, they could not take care of him either because they knew practically nothing of the humans.
Community content is available under
CC-BY-SA
unless otherwise noted.