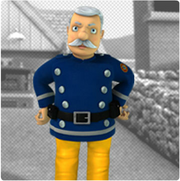 Norris Steele, formerly Basil Steele, is the Station Officer of The Pontypandy Fire Service.
Biography
Norris Steele was born and raised in Newtown, after completing high school he began his career as an "Army Officer".
After a while, he started his firefighter training at the Newtown Fire Academy along with Chief Fire Officer Boyce. Upon completing his training, they both began work at the original Pontypandy Fire Station (which is now the Railway Station) and operated on Bessie
Steele soon got promoted to the position of Station Officer and transfered to the newer (present) fire station whilst Boyce was transferred to Newtown where he became Chief Fire Officer. A while after this, he was offered a promotion as the Deputy Chief Fire Officer in Newtown, but rejected the promotion as he wanted to stay and serve Pontypandy instead.