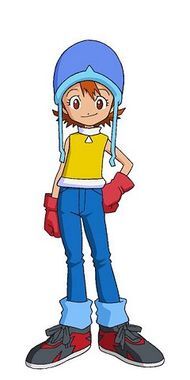 "Nice place you got here. Except the bugs."
Sora TakenouchiSora Takenouchi is a character from Digimon Adventure and its sequel Digimon Adventure 02,
Sora is feisty, tomboyish, cheerful, courageous, kind, wise, and jolly. She is a mother-figure of the Digi-Destined. She is best friends with Taichi and is also friends with Mimi.
Quotes
"Maybe if your brain was as big as your hair you'd be a little smarter."(to Tai)
"Now that the boys have holes in their heads, maybe their brains will get enough oxygen."
"There's the price tag. It's Mimi's."
"What kind of sicko turns people into keychains?"
"All clear, no need to hide anymore."
"No it's not! Don't say that, Tai! It's not like me at all!" (to Tai after explaining about the Crests)
"I'm glad."