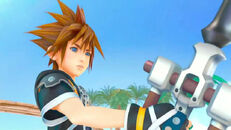 Sora is the main protagonist of the Disney/Square Enix video game series Kingdom Hearts. Sora is a teenager who originates from Destiny Islands but obtains the Keyblade, a weapons used to fight creatures known as the Heartless. In order to find the King, Donald Duck and Goofy recruit him in their journey across various worlds to save them from darkness, as well as find Sora's friends. Throughout the games, Sora journeys throughout worlds, interacting with various Disney characters as he gains experience with the Keyblade as well as his growth as its wielder. He is voiced by Haley Joel Osment in the English version and Miyu Irino in the Japanese version.
Community content is available under
CC-BY-SA
unless otherwise noted.