Sophie Karamazout
Background information
Feature films
Television programs
Video games
Books
Park attractions
Portrayed by
Portrayed by
Animators
Voice
Performance model
Designer
Inspiration
Honors and awards
Character information
Full name
Other names
Origin story
Mr. Karamazout is the inventor, which he had no wife and even no children. So, he decided to have his own daughter. He mixes the ingredients to create a little girl using a mixture of sugar, spice, and everything nice. Then, Sophie Karamazout is born.
Personality
Cute, snobbish, beautiful, silly, brave, girly, merry, soft, charming, gentle, lovely, joyful, adventurous, happy-go-lucky, sweet, polite, pretty, imaginative, shy, nice, playful
Appearance
Black hair tied with two bows, a hat with a red ribbion, a little white dress with a red ribbion, white bloomers, white socks, black shoes.
Birthday
Summer
Species
Age
Occupation
Affiliations
Goal
Home
Braine-l'Alleud, Belguim
Relatives
Pets
Allies
Minions
Enemies
Likes
Playing, having fun, flowers, birds, being happy, flight, summertime, fairy tales, playing pranks, goofing off
Dislikes
Powers and abilities
Love and power in her heart, able to fly
Weapons
Fate
Quote
English:
"Happy is Braine-l'Alleud!"
"Love and kisses by Sophie!"
"I am happy to be your girlfriend!"

French:
"Heureux à Braine l'alleud"
"Grosses bises de Sophie!"
"Je suis ravie d'etre ta copine!"

Dutch:
"Gelukkig heeft Braine L'alleud!"
"Liefde en kussen van Sophie!"
"Ik ben blij dat je vriendin te zijn!"

German:
"Glücklich hat Braine l'alleud"
"Liebe und Küsse Sophie!"
"Ich freue mich auf deine Freundin sein!"
[Source]

Sophie Karamazout is the main character of the "Sophie" series created by Jidéhem which ran from the 1960's until 1994 in Spirou Magazine. She is a cute, funny and brave little girl who loves having fun.
Sophie was based on Jidéhem's own daughter. Sophie is a young girl who lives with her father who is an inventor and goes through all kinds of adventures. She usually speaks with her thick British accent.
Appearance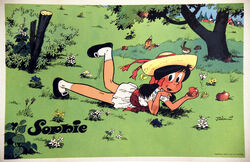 In the duration of her series, she is most often seen with her black hair tied up with two red bows. She wears a beautiful summer outfit, which she wears a straw hat with a ribbion, a little white dress with puffed sleeves and a ribbion, white bloomers, white tight stockings and black shoes.
Community content is available under
CC-BY-SA
unless otherwise noted.