m

Line 22:
Line 22:
 

* Disney Wiki

 

* Disney Wiki

 

[[Category:Disney]]

 

[[Category:Disney]]

−

[[Category:Disney Characters]]

+

[[Category:Disney ]]

 

[[Category:Black Hair]]

 

[[Category:Black Hair]]

 

[[Category:Black hair]]

 

[[Category:Black hair]]

 

[[Category:Female]]

 

[[Category:Female]]

−

[[Category:Females]]

+

[[Category:]]

 
 
 

[[Category:Fantasy]]

 

[[Category:Fantasy]]
---
Revision as of 05:06, 31 January 2016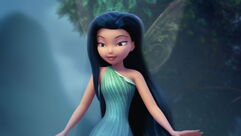 Silvermist is one of the major fairies in the Disney Fairies franchise. Silvermist is a water-talent fairy of East Asian appearance. She looks on the positive side of life and acts as an influence between Tinker Bell and Iridessa. She is voiced by actress Lucy Liu.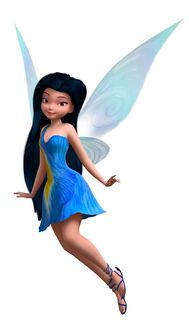 Background
Personality
She is a water-talented fairy who is best described as sweet, silly, and sympathetic. Her sympathetic personality can be seen at many situations, such like when Terence is angry with Tink in Tinker Bell and the Lost Treasure. She is always ready to lend an ear to a fairy friend in need and sometimes gives them good advice and sometimes not. But she usually gives more good advice than not. She's a really good fairy to be friends with.
Silvermist has a delightfully offbeat and upbeat way of looking at everything. Very much a free spirit, she often listens to her heart more than her head. That's why she's sometimes doing something silly. She's an easygoing soul who is eager to please and makes friends easily. Her sense of loyalty is unmatched, and rubs off on Tink. Silvermist was born on the 16th of December, as Disney said her birthday is the same as the garden fairy Rosetta's.
Silvermist's guilty pleasure is listening to rumors and gossip from the babbling brook. In Silvermist and The Ladybug Curse, it is mentioned that Sil is the only fairy in Pixie Hollow who doesn't believe in curses or things like that.
Appearance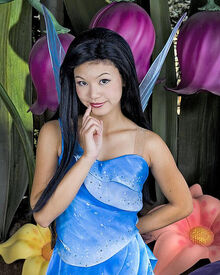 Silvermist has an Asian appearance with black hair with a slight, dark-blue tint to it, and brown eyes. She wore a blue dress that seems like made from painted leaves as seen in Tinker Bell. Her new dress she wears a dress with white and blue gradients, can be seen in Tinker Bell and the Lost Treasure. In Tinker Bell and The Great Fairy Rescue, she wears a dress made of blue-pea petal which has a big yellow spot in middle-right.
Disney Parks
Silvermist currently makes appearances in several of the parks around the world. In Disneyland, Silvermist makes meet and greet appearances at the Pixie Hollow section. In the Spring of 2010, Silvermist, along with her friends, was featured in Fairies Primavera at Tokyo DisneySea.
Credit