Jurassic World: Dominion Dominates Fandom Wikis - The Loop
Play Sound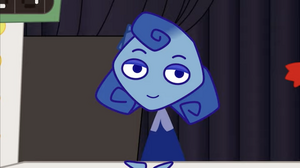 Sapphire is a character from Whirl: Leo and Friends.
About Sapphire
Sapphire first appears in "Cornonation Quiz", in which she is a contestant at a Bible quiz bowl with teammates Torres and Yuyu, all of whom are on the green team from Second First Church. Their opponents are Ruby, Leo, and Mimi, all of whom are on the red team and from the First Second Church. Each member of each team is a counterpart to the other and share similarities in appearance, yet also differ in color and personality.
Sapphire appears with the two others again in "Second First Church". Leo, Ruby, and Mimi are temporarily attending the opposing team's church, because the First Second Church is being fumigated. Leo, Ruby, and Mimi listen to a sermon in a pew and find Sapphire, Yuyu, and Torres in another pew. Afterwards, the two groups meet each other again. After Torres throws a football at Leo, Leo misses and Torres says he's got to have good hands to catch. Sapphire tells him that's no way to greet the new guest. She greets Ruby and compliments on the flower in her hair. When Ruby asks, "Is she serious?", Yuyu replies, "She is". Yuyu mentions that the First Second Church trio's presence is disrupting their normal seating arrangement. Ruby insists that they don't enjoy being at the Second First Church either, but Sapphire actually doesn't mind and says she enjoys their company. Ruby tells her she's too friendly. The First Second Church threesome plan to have a bake sake to raise funds for furniture replacements after termites ate them; the Second First Church threesome plan to have an artisan dairy sale to raise funds of their own. After a discussion about this, both trios go their separate ways and Sapphire tells the other trio she'll see them later. The First Second Church threesome don't have success in selling chocolate chip cookies, neither does the Second First Church threesome have any success selling milk and Sapphire sighs with disappointment. Then, it's decided that the two groups will join forces to sell their products together. The crowd is finally drawn to both of them and both groups find success. This pleases Sapphire, who happily hugs Ruby and says it's amazing, as they've never sold as much milk on its own before as they have now. After moving Sapphire aside, Ruby mentions that her group's bake sales hadn't gone this well. Once the problem is solved, the two threesomes concur to get together for fundraising and sell on a regular basis.
Sapphire appears once again in "Lemonade Blockade". Ruby and Leo have a lemonade stand set up and they attempt to sell the beverage. Sapphire and Torres have their own lemonade stand, but they give out free lemonade. After Victor tries to buy lemonade from Ruby and Leo, mentions he doesn't have enough money, and insults Ruby by calling her "rhubarb", he gets lemonade from Sapphire and Torres's stand. Victor thanks Sapphire for it and she tells him he's very welcome. Ruby decides to inflate the price twice as a solution, but she and Leo have no luck in winning over any customers. It's the opposite for Sapphire and Torres, as the crowd goes to their stand instead. Sapphire mentions that she and Torres have run out of lemonade. Just when it seems like that's the end for her and Torres, she tells the customers that she can make more and says the three ingredients needed are iced water, lemons, and sugar. Ruby and Leo's lemonade sale goes bust, and Leo heads over to Sapphire and Torres's stand for free lemonade after Ruby tells him he had to pay for his own, deserting her.
Physical Appearance
Sapphire resembles Ruby, except Sapphire and her clothes are different shades of blue. She has maya blue skin and dark blue eyes. Her hairstyle is similar to Ruby's, including a curled fringe, except the curls at the ends of both sides are downward and its blueberry blue. She wears a flower in her hair of that matching shade of blue. Her outfit looks similar to Ruby's, except it's gobelin blue, her collar is folded and grey blue, as is her belt with a majorelle blue, heart-shaped buckle.
Personality
Sapphire is sweet, friendly, perky, enthusiastic, and somewhat dotty. Her traits are more in line with those with Mimi's and she has more in common with her than with Ruby.
Appearance(s)
Coronation Quiz
Second First Church
Lemonade Blockade