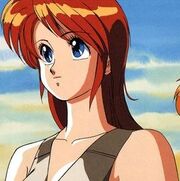 Sandy Newman is the big-assed main protagonist of the first movie, Gall Force Earth Chapter. She's also really, really hot.
Profile
Race: Human
Affiliation: Kularis-class cruiser Star Leaf
Occupation: Bridge officer of the Star Leaf
Age: 20
Gender: Female
Key Features: Srawberry blond-ish hair, blue eyes, cute as fuck, huge butt
Husbando: Hiroyuki
About
Gall Force Earth Chapter
Hetero Life Researcher, the Astrophysics Authority, the only daughter of Dr. Gray Newman. Father lived with Father on Moon Base "Lunadoc-α" with Father's Laboratory, but now Father died. E. M.M.E under the control, As the Guerrilla warrior on the Australian continent, we continue fighting tomorrow with the enemy M.M.E. He worked as Leader of the eighth Western group of about 40 people, the clarity of the brain is fatherhood. Even now I feel unexpectedly injured in the fact that Father was doing the work of "discovering an alien spaceship on the moon" that was part of the cause of M.M.E. I have the ability to take action with enough courage to believe that I am right. Female looks exactly like Rabby. The name is from Sound.
Gallery
Videos
Community content is available under
CC-BY-SA
unless otherwise noted.