This character has been used under the following names below. Navigate using the arrows or by clicking on a name listed on the navigation bar to jump to a specific character name you want to read.
Other characters for Sam
|
Next →
Leon the Snowman • Sam the Snowman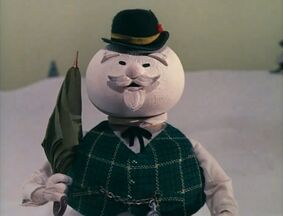 Sam the Snowman is a snowman character from the Rankin/Bass special Rudolph the Red-Nosed Reindeer. Sam serves as the special's narrator, telling the story and performing songs with the accompaniment of his banjo, and inviting the audience to "pull up an iceblock and lend an ear."
He was the first of many Rankin/Bass narrators, usually caricatures of their celebrity voice actors. In this case, Sam possesses Burl Ives' trademark beard, girth and voice. He seems to exist entirely outside of the main plot events, relating an item of past history but never directly interacting with the other characters, although he does mention that he told Hermey and Yukon Cornelius where to find Rudolph when they returned to the North Pole. At the end of the special, though, he is seen watching Santa's sleigh take off into the sky.
Sam re-appeared on the movie "Elf" as Leon the Snowman (who is a parody of Leon Redbone).