Jurassic World: Dominion Dominates Fandom Wikis - The Loop
Play Sound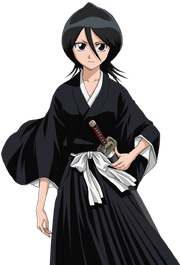 Rukia Kuchiki (朽木 ルキア, Kuchiki Rukia) is the deuteragonist of the Bleach anime/manga series. She is the current Captain of the 13th Division. She formerly served as lieutenant of the 13th Division under Captain Jūshirō Ukitake. Rukia is the younger sister of the late Hisana Kuchiki, the sister-in-law of Byakuya Kuchiki, the mother of Ichika Arabai, and also a friend of Ichigo Kurosaki. She is voiced by Michelle Ruff in the American English dub, who also voiced Aoi Sakuraba in Ai Yori Aoshi, Cream the Rabbit in Sonic the Hedgehog series, Crimson Viper in Street Fighter series, Zoe Orimoto in Digimon Frontier, Luna in Sailor Moon franchise, and Yoko Littner in Gurren Lagann.
Quotes
Show yourself, Kakashi Hatake. I know you're following me... again!
(Homura Akemi: You must join me in fixing time, Rukia.) And commit us to a dark future, Homura? (Homura Akemi: Our sacrifice will save our friends.)
(to Homura Akemi, while referring to Kyubey) Kyubey sends you against me? (Homura Akemi: He's the future's only hope, Rukia.) Kyubey lies, Homura.
Family
Unnamed father (deceased)
Unnamed mother (deceased)
Hisana Kuchiki (older sister, deceased)
Byakuya Kuchiki (brother-in-law)
Renji's father (father-in-law, deceased)
Renji's mother (mother-in-law, deceased)
Renji Arabai (husband)
Ichika Arabai (daughter)
 

Bleach characters

Karakura Town
Ichigo Kurosaki • Orihime Inoue • Uryū Ishida • Yasutora Sado • Isshin Kurosaki • Masaki Kurosaki† • Yuzu Kurosaki • Karin Kurosaki • Kon • Ryūken Ishida • Kanae Katagiri† • Tatsuki Arisawa • Kisuke Urahara • Yoruichi Shihōin • Kazui Kurosaki

Soul Society
Gotei 13
Genryūsai Shigekuni Yamamoto† • Shunsui Kyoraku • Nanao Ise • Suì-Fēng • Yoruichi Shihōin‡ • Rōjūrō Ōtoribashi • Izuru Kira • Retsu Unohana† • Isane Kotetsu • Hanatarō Yamada • Shinji Hirako • Momo Hinamori • Byakuya Kuchiki • Renji Abarai • Sajin Komamura‡ • Tetsuzaemon Iba • Lisa Yadōmaru • Kensei Muguruma • Shūhei Hisagi • Mashiro Kuna • Tōshirō Hitsugaya • Rangiku Matsumoto • Isshin Shiba‡ • Kenpachi Zaraki • Yachiru Kusajishi‡ • Yumichika Ayasegawa • Nemu Kurotsuchi† • Akon • Kisuke Urahara‡ • Jūshirō Ukitake† • Kaien Shiba† • Rukia Kuchiki • Mayuri Kurotsuchi • Sōsuke Aizen • Gin Ichimaru† • Kaname Tōsen‡ • Ganryū† • Riyan† • Jai† • Mue† • Bau† • Benin† • Maki Ichinose† • Sōjirō Kusaka† • Shūsuke Amagai† • Makoto Kibune† • Kōga Kuchiki† • Ōko Yushima


Soul Society
Hollows
Fishbone D† • Hexapodus† • Acidwire† • Shrieker‡ • Grand Fisher‡ • The Demi-Hollow† • Bulbous G† • Numb Chandelier† • Metastacia† • Runuganga† • Menos Forest Guardian† • Zonzain • Ayon† • Hooleer† • Battikaroa† • Michel† • Tapeworm Hollow† • Yosuke† • White†

Others
Kūgo Ginjō • Shūkurō Tsukishima • Giriko Kutsuzawa • Kūkaku Shiba • Ichika Abarai

Hueco Mundo
Tier Harribel • Emilou Apacci • Franceska Mila Rose • Cyan Sung-Sun • Loly Aivirrne • Ulquiorra Cifer • Nelliel Tu Odelschwanck • Pesche Guatiche • Dondochakka Birstanne • Bawabawa • Grimmjow Jaegerjaquez • Ayon† Arrancars Coyote Starrk†/Lilynette Gingerbuck† • Baraggan Louisenbairn† • Tier Harribel • Ulquiorra Cifer† • Nnoitra Gilga† • Grimmjow Jaegerjaquez • Luppi Antenor† • Zommari Rureaux† • Szayel Aporro Granz† • Aaroniero Arruruerie† • Yammy Llargo† • Dordoni Alessandro Del Socaccio† • Cirucci Sanderwicci† • Gantenbainne Mosqueda • Abirama Redder† • Charlotte Chuhlhourne† • Findorr Calius† • Ggio Vega† • Choe Neng Poww† • Nirgge Parduoc† • Emilou Apacci • Franceska Mila Rose • Cyan Sung-Sun • Tesra Lindocruz • Shawlong Kūfang† • Edrad Liones† • Nakeem Grindina† • Yylfordt Granz† • Di Roy Rinker† • Lumina & Verona† • Medazeppi† • Aldegor† • Aisslinger Wernarr† • Demoura Zodd† • Hammerhead Shark Arrancar† • Loly Aivirrne • Menis† • Menoly Mallia • Patros† • Rudbornn Chelute • Unnamed Female Arrancar • Wonderweiss Margela† • Cloning Arrancar† • Arturo Plateado† • Rudbornn Chelute • Grand Fisher† • Ying and Yang†

Aizen's Arrancar Army‡

Leaders: Sōsuke Aizen • Gin Ichimaru‡ • Kaname Tōsen†
Espada: Coyote Starrk†/Lilynette Gingerbuck† • Baraggan Louisenbairn† • Nnoitra Gilga† • Grimmjow Jaegerjaquez • Luppi Antenor† • Zommari Rureaux† • Szayel Aporro Granz† • Aaroniero Arruruerie† • Yammy Llargo†

Números

Fracción: Abirama Redder† • Charlotte Chuhlhourne† • Findorr Calius† • Ggio Vega† • Choe Neng Poww† • Nirgge Parduoc† • Emilou Apacci • Franceska Mila Rose • Cyan Sung-Sun • Tesra Lindocruz • Shawlong Kūfang† • Edrad Liones† • Nakeem Grindina† • Yylfordt Granz† • Di Roy Rinker† • Lumina & Verona† • Medazeppi†
Unclassified: Aisslinger Wernarr† • Demoura Zodd† • Hammerhead Shark Arrancar† • Loly Aivirrne • Menoly Mallia • Wonderweiss Margela† • Arturo Plateado†
Exequias: Rudbornn Chelute

Naruki City
Yukio Hans Vorarlberna • Riruka Dokugamine • Moe Shishigawara

Naruki City


Xcution

‡

Kūgo Ginjō† • Shūkurō Tsukishima† • Yukio Hans Vorarlberna • Jackie Tristan • Giriko Kutsuzawa† • Riruka Dokugamine

Naruki City
Wandenreich‡
Yhwach† • Uryū Ishida‡ • Jugram Haschwalth† • Quilge Opie†
Sternritter: Uryū Ishida‡ • Jugram Haschwalth† • Pernida Parnkgjas† • Askin Nakk Le Vaar† • Bambietta Basterbine† • Äs Nödt† • Liltotto Lamperd • Bazz-B† • Cang Du† • Quilge Opie† • BG9† • PePe Waccabrada† • Gerard Valkyrie† • Robert Accutrone† • Driscoll Berci† • Meninas McAllon† • Berenice Gabrielli† • Jerome Guizbatt† • Mask De Masculine† • Candice Catnipp† • NaNaNa Najahkoop† • Gremmy Thoumeaux† • Nianzol Weizol† • Lille Barro • Loyd Lloyd† • Royd Lloyd† • Giselle Gewelle

]