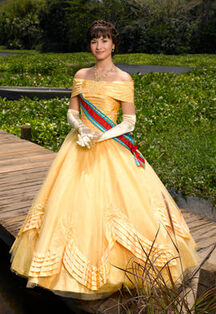 Princess Rosalinda Maria Montoya Fioré or Rosie Gonzalez (played by Demi Lovato) is a young princess who is heir to the throne in a small country called Costa Luna. When she arrives to Louisiana to live with Carter Mason and Major Mason, she has trouble fitting in. She goes by her new name, "Rosie Gonzalez" and is guided by Major Mason's daughter, Carter to becoming just another American teenager in order to stay hidden. As the movie goes, "Rosie" and Carter puts aside their differences and become best friends. At the end of the film, Rosie returns home and was crowned queen of her country.
Gallery
Community content is available under
CC-BY-SA
unless otherwise noted.