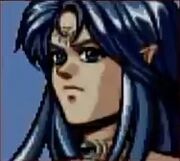 Rinna is a Character of Machine-Armor Louga.
About
Machine-Armor Louga
Restore System Artificial life created by ancient civilization Vacuum for control. For Erena it is the only sister like Girl. Human who misuse magic science once despaired and made Restore System runaway and made cause which destroyed Vacuum. Although it was followed asleep, it was excavated by Haierun Empire and revived to the present age. However, by seeing Haierun Empire exploiting magic science again, despairing Human again, judging that "magic science is overwhelming for human beings", by dare providing magic science technology to Haierun Empire for use, We plan to destroy the world by Machine Beast God. Machine Beast God It is seriously injured by collapse of the building at the time of resurrection, but by touching the tenderness of Vaice after being saved by Vaice, we will cooperate with Vaice once again to think about Human. I was relieved to know that Machine Beast God was overthrown and finished Battle and died in Erena to live up to his own amount. The body was buried.
Machine-Armor Louga II
The body of Rinna was excavated by Gloss Bale Empire plotting Restore System resurrection.
Videos
Gallery
Community content is available under
CC-BY-SA
unless otherwise noted.