Rem Ayanokouji (綾小路 麗夢, "Ayanokouji Remu") is the Main Protagonist of Dream Hunter Rem.
About
While appearing to be a typical junior high school age girl, Rem's age is unclear and her family situation unknown, and she never discusses these matters. Rem has the psychic ability to enter the dreams of other individuals. She is a descendant of a long line of people with the ability to be "Dream Guardians," those who hunt down the demons who try to steal the life force of humans by invading their dreams. She makes her living as a private detective investigating supernatural matters. Her headquarters, the Ayanokouji Detective Agency, is located on a side street off Aoyama in Tokyo. As her investigations are limited to supernatural and bizarre phenomenon, her advertising is limited to word of mouth from grateful clients.
Relationships
Alpha - Rem's pet kitten
Beta - Rem's pet puppy
Enkō - An ally from outside the dream world. He also has strong feelings of love toward Rem.
Junichirou Sakaki - He became acquainted with Rem during a demon nightmare incident involving his daughter Yukari.
Umimaru Kidō - He has strong romantic feelings toward Rem, and frequently battles Enkou for her attention.
Dr. Shinigami/Mephisto/Shimura - He share's the same Dream Guardian ancestry.
Appearances
OVAs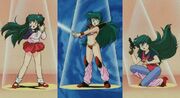 Dream Hunter Rem
Dream Hunter Rem

Dream Hunter Rem Special Version: Sanmu! Yomigaeru Shinigami Hakase

Dream Hunter Rem II: Seibishinjo Gakuen no Yōmu
Dream Hunter Rem III: Yumegakushi, Kubinashi Musha Densetsu
New Dream Hunter Rem
New Dream Hunter Rem: Yume no Kishi-tachi
New Dream Hunter Rem: Massacre in the Phantasmic Labyrinth
Novels
Dream Hunter Rem V: Yume Circus Bishōjo Jigokuhen
Dream Hunter Rem: Floyd-jō Genmutan
Comics
Main Series
Dream Hunter Rem XX
Dream Hunter Rem Alternative
Anthology
Party of Rem
Fiesta of Rem
Books
Dream Hunter Rem I
Dream Hunter Rem II
Dream Hunter Rem III
Dream Hunter Rem SP
Gallery
Normal Form
Battle Form
School Uniform
Leotard and Gree Tights
Tennis Wear
Videos
Community content is available under
CC-BY-SA
unless otherwise noted.