We're Getting Mutants in the MCU - The Loop
Play Sound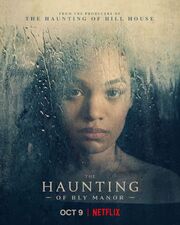 Rebecca Jessel is a character from the Netflix show The Haunting of Bly Manor. She used to be the governess of Bly Manor. She is the love interest of Peter Quint. Not much is known about her past, but she was a good person and studied at the University of London, completing a course about Russian poetry, and then she later studied public law at the London School of Economics. She used to have a good relationship with her father; however, this relationship deteriorated overtime as her father believed that her ambitions were out of reach. Despite this, Rebecca continued on her pursuit. She went to higher education to become a barrister. After this, however, she dropped out, because of the constant harassment that many women faced. She decided to become a Governess at the Bly Manor, where she got closer to Peter Quint.
She is now a villain. Overall, she is still a good person, but she has done some questionable things. She has possessed Flora Wingrave, with good intentions, but harming her overall. She was possessing Flora in order for them to be together again. She fell to the dark side, but is still affable. She "tucks away" Flora into her old memories. Flora gets angry about this. It is revealed that Rebecca drowned herself and is now a ghost, however, then we figure out that even though she walked into the lake, Peter Quint drowned her.
She redeems herself in the end, stops possessing Flora, and all is good again at Bly Manor.

References
Rebecca Jessel. (n.d.). The Haunting of Bly Manor Wiki. Retrieved January 25, 2022, from https://the-haunting.fandom.com/wiki/Rebecca_Jessel
She still counts as Suicidal because she's the one who walked into the lake on purpose, and drowned.