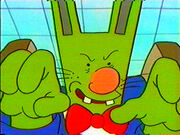 Rancid Rabbit is the stereotypical authority figure and is one of the main antagonists in the Nickelodeon animated series, CatDog right next to the Greaser Dogs. He is the ruthless mayor of Nearburg and CatDog's arch rival, He has multiple jobs which includes police officer, lifeguard, prison guard, boss of various businesses, principal, president, mayor, Egyptian Pharaoh, doctor, TV host, contest judge, Taco Depot Manager, store manager. Rancid really hates CatDog and would get out of his way to punish them or force them to work for him.
At one point in the series, he at first started arresting dogs for not having licenses, but soon arrests everyone else in town for not having one (except for Cat who got his license years prior). After everyone breaks out, they ganged up on Rancid and put him in prison. He even cons Cat into buying Mean Bob toys and ice skates.
Rancid Rabbit is voiced by Billy West.
Community content is available under
CC-BY-SA
unless otherwise noted.