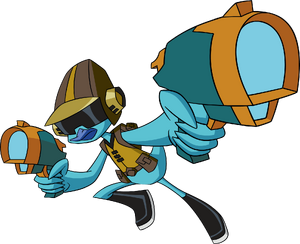 Captain Rad Profit Danger Trouble Dudesman is a character in Omniverse. He first appeared in Have I Got A Deal For You.
Personality
A trigger-happy duck because of all the high-powered weapons he has on the "Lovely Duck". He is also has an aggressive personality when someone stops him from shooting his target.
Appearance
Rad is a jay-like alien with light-blue skin and a blue beak. He wears a beige shirt with three black stripes and a belt with some equipment on it. He has a helmet with an attached black visor.
Powers and Abilities
Rad is extremely skilled with blaster weaponry. While aboard his ship,
The Lovely Duck
, Rad appears to have a wide arsenal of laser weapons that he can use at any time he wants to shoot.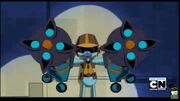 Appearances
Ben 10: Omniverse
Have I Got A Deal For You (first appearance; cameo)
Rad
Rad Monster Party
Charmed, I'm Sure
The Vampire Strikes Back
See also
References
Community content is available under
CC-BY-SA
unless otherwise noted.