Pighead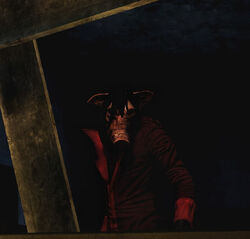 Pighead is the main antagonist of Saw franchise.
Dressed in a red boxer cloak, his face always covered with the infamous pighead mask, he is a silent character whose main role is to capture Tapp at several points in the games, he also placed him in the Shotgun Collar, and he also captures Amanda (but this is all faked, since Amanda is already Jigsaw's apprentice).
After Tapp completed all of his tests, Jigsaw revealed that Pighead seeks to surpass him by sabotaging Tapp's test, so Tapp must stop Pighead, also in order to get the key to the library.
At the end of the game, he is fought just before the final room (with the Freedom and Truth door), where he proves himself to be a formidable opponent, until being electrocuted to death by Tapp.
His true identity is a mystery. Tapp did not bother to remove Pighead's mask after killing him.
He is referenced in an audio tape in Saw II: Flesh & Blood left by Tapp, who felt guilty for killing him, not knowing if he had a family or if he was forced to obey Jigsaw.
Tapp's tape: I killed a man in a pig mask back at Whitehurst. Nobody knows that but me. I never even knew who he was, just figured it was Jigsaw. I never even thought about it until I had to make the choice. Maybe he was a family man, maybe Jigsaw kidnapped his family. I would do the same thing if Michael was in danger. Even though he ruined my life, he's still my son.