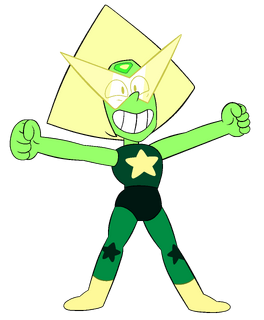 Peridot (specifically Peridot Facet-2F5L Cut-5XG) is a member of the Crystal Gems who made her debut in "Warp Tour". She was originally a Homeworld Gem technician and a certified Kindergartner. After being stranded on Earth following the events of "Jail Break", she acted as a recurring antagonist until becoming more of an antihero and pseudo-antagonist by establishing a truce with the Crystal Gems in "When It Rains" to help them save the Earth from the Cluster. She officially became a member of the Crystal Gems in "Message Received" after she defied and insulted her Homeworld superior, Yellow Diamond. Peridot is currently living at the Barn with Lapis Lazuli.
Community content is available under
CC-BY-SA
unless otherwise noted.