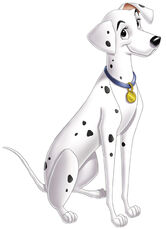 Perdita is the deuteragonist of the film 101 Dalmatians. She is the 27 year old pet of Anita, wife of Pongo, and the mother of fifteen Dalmatian puppies as well as adoptive mother of other eighty-four puppies. Perdita, along with Pongo, goes on the heroic journey to rescue the puppies. She was voiced by Cate Bauer in the original film.
Personality
Perdita is very well mannered, beautiful, elegant and young woman-like, a complete foil to Pongo's carefree nature. Despite her well-coordinated nature, Perdita tends to be incredibly worrisome in hectic situations, but can be calmed by Pongo. Like Pongo, Perdita shows to be a fierce fighter, as seen when she and Pongo battled Cruella's henchmen Horace and Jasper.
Disney Parks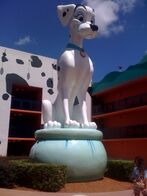 Perdita makes no live appearances in the parks, but her likeness is featured in several locations. A gigantic statue of Perdita is featured at Disney's All-Star Movies Resort at Walt Disney World. Perdita can also be seen during the end credits of the Disney Fantasy's Animators Palate show.
Perdita is also featured in the attraction Sorcerers of the Magic Kingdom. When Cruella De Vil returns to find the legendary Crystal of the Magic Kingdom and kidnap the pups, Perdita and the puppies go into hiding while Pongo teams up with Merlin to save the city. Later on, Cruella breaks into Merlin's secret vault to find the crystal but she instead finds a chew toy. Perdita and the puppies were able to switch the crystal with the toys just before Cruella's arrival.
Perdita is also seen reuniting with her puppies in Midship Detective Agency aboard the Disney Fantasy.
Trivia
In the animated Movie, Perdita was originally played by Lisa Daniels. She had recordered about a third of the film as Perdita, but got married and moved to New York, so she was voiced by Cate Bauer for the rest of the film.
Perdita is actually based on two characters from the original book: "Missis" Pongo, who was the wife to Pongo and birth mother of the fifteen puppies, and Perdita, a sickly liver-spotted Dalmatian adopted by the Dearlys to be a secondary mother to the puppies.
In some promotional pictures, Perdita is seen with deep brown eyes.
Credit
Community content is available under
CC-BY-SA
unless otherwise noted.