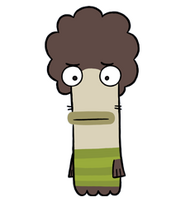 Oscar is one of the three main protagonists of Fish Hooks. He is a neurotic fish and the brother of Milo. He is known to have a huge, almost obsessive crush on his friend Bea Goldfishburg. His locker is decorated with a shrine to Bea.
Background Information
Oscar is part betta fish ("Doggonit").
Oscar may also be part catfish, due to him having whiskers.
Since Milo and Oscar are the same age and don't look a thing like each-other, it's possible that Milo inherited more betta fish genes than Oscar did (Milo looks more like a betta fish) causing this difference.
Both Oscar and Milo appear to not have last names since when someone called Oscar he replied "Oscar the Fish".
Credit
Community content is available under
CC-BY-SA
unless otherwise noted.