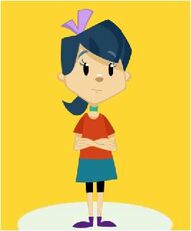 "THERE ARE ONLY TWO THINGS WRONG WITH THIS PLAN. IT'S SILLY AND IT'S SILLY. I KNOW THEY'RE THE SAME THING, BUT I THOUGHT IT WAS SO SILLY THAT I HAD TO POINT IT OUT TWICE. "
NIKKI LIVES NEXT DOOR TO JEVAN AND HAS BEEN HIS FRIEND SINCE THEY WERE BOTH IN NAPPIES.
SHE IS MATTER-OF-FACT AND SENSIBLE, WHICH ALWAYS LEADS HAIRY TO SAY THAT SHE'S "BORINGLY PRACTICAL" WHENEVER NIKKI POINTS OUT THE NUMEROUS FLAWS IN HAIRY'S PLANS FOR GOOD DEEDS.
WHEREAS JEVAN IMMEDIATELY ACCEPTS HAIRY, NIKKI TAKES TIME TO COME TO TERMS WITH HIM. A FAIRY CANNOT EXIST. IT'S ILLOGICAL AND IT'S INCOMPREHENSIBLE, YET HOW CAN SHE DENY IT WHEN HAIRY IS STANDING RIGHT THERE IN FRONT OF HER?
Community content is available under
CC-BY-SA
unless otherwise noted.