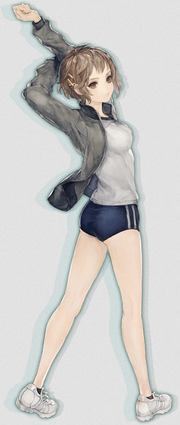 Natsuno Minami is a Protagonist is 13 Sentinels: Aegis Rim.
About
She is a girl with short brown hair, usually wearing Gym Outfits. A female high school student attending Sakura High School, an energetic and honest track and field member. 1st year group C of the same class as Megumi Yakushiji. Occult maniac who purely dreams of interacting with aliens. A family of five, Parents and Younger Brother. She is on good terms with his grandmother, Tamao Kurabe (the grandmother of Jyuro Kurabe). Iori Fuyusaka, Miwako Sawatani and Yuki Takamiya are best friends from elementary school. Encountered the mysterious Robot "BJ" that appeared in the club room, and over time with BJ to find the 17th Machine Soldier, he was involved in various incidents. She got to know Keitaro Miura, who came from the past, and became aware of each other. Machine Soldier's Activation Marker is Right Cheek.
Community content is available under
CC-BY-SA
unless otherwise noted.