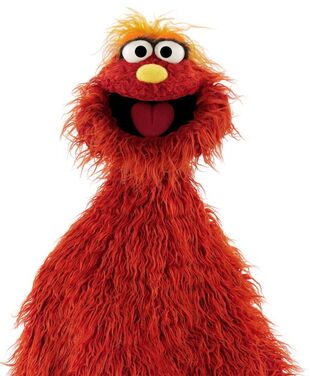 Murray Monster is a Sesame Street monster who hosts two regular segments, "The Word of the Day" and "Murray Has a Little Lamb".
An energetic monster, his early talk spots with kids in Season 36, often discussed the importance of exercise and healthy habits with young visitors.
Although unnamed, the character was referred to on the set as "FilFil," as his design is based on that of Filfil from Alam Simsim. Beginning in Season 38, he gained an identity as Murray, hosting the "What's the Word on the Street?" segments that precede each episode of Sesame Street. In season 39, he began appearing in his own segment, Murray Has a Little Lamb, where he goes to a certain school with his pet lamb, Ovejita. In season 40, he started serving as a host of the new "block format", presenting the letter and number of the day, introducing upcoming sketches within the episodes, and announcing the sponsors. Murray was given a new segment in Season 42, Murray's Science Experiments, which are spread through the tune-ins. He is again with Ovejita.
He hosts the Sesame Street Podcast and appeared as one of the reporters for ESSN (Ernie's Sports Show News) on Count on Sports.
In a Tough Pigs interview, performer Joey Mazzarino said of Murray: "I kinda keep Murray like, who's the guy on Fraggle Rock? Uncle Traveling Matt. Because I feel like he goes out into the real world, and when we put him onto the street, there's just a million characters who can service this.[1]"
Book appearances
What's the Word on the Street? (2008)
Love, Elmo (2009)
Healthy Monster Triathlon (2010)
Murray's First Book of Words (2010)
Abby's Pink Party (2011)
Elmo Doodle Dandy (2011)
Elmo's Merry Christmas (2011)
Grouches Are Green (2011)
I Can Make Words (2011)
Imagine with Elmo (2011)
Opposite Day (2011)
Elmo and Ernie's Joke Book (2012)
Trivia
In a deleted interview scene for What's the Word on the Street?, used in a Behind the Scenes spot on the Sesame Street website, Murray alludes to an as-of-yet-unseen superhero alter ego.
In the resource video Little Children, Big Challenges: Incarceration, Murray reveals that his uncle was incarcerated when he was little.
The first variant of Murray is extremely rare on the show, but has appeared on the "What's the Word on the Street" sketch "Impostor".
External links
Sources
| | |
| --- | --- |
| | This page uses Creative Commons Licensed content from Muppet Wiki. The list of authors can be seen in the page revision history (view authors). As with Fictional Characters Wiki, the text of Muppet Wiki is available under the CC-by-SA Free Documentation License. |