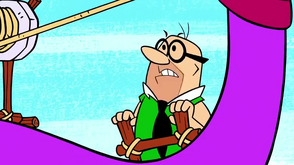 Mr. Slate is Fred's hot-tempered boss at the stone quarry. Though he is friends with Fred and Barney and often joins them for events such as parties, he is often not impressed with Fred's antics at the quarry, and has fired him on many occasions, only to give him his job back at the end. A running gag is his ever-changing first name, which has been presented as Sylvester, Nate, Oscar and George. On the episode "The Long, Long, Long Weekend", which originally aired on January 21, 1966, he is shown as being the founder of Slate Rock and Gravel Company. The company is still in business two million years later and is being run by his descendant George Slate the Eighty-Thousandth.
Gallery
Community content is available under
CC-BY-SA
unless otherwise noted.