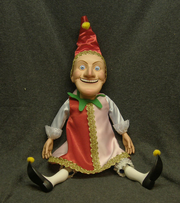 Mr. Punch is a character from the puppet show 'Punch and Judy'. Punch and Judy is a traditional, popular puppet show featuring Mr. Punch and his wife, Judy. The performance consists of a sequence of short scenes, each depicting an interaction between two characters, most typically Mr Punch and one other character. It is often associated with traditional British seaside culture.
History
In the 1987 movie Dolls. Mr. Punch is a killer doll that helps save a little girl from her abusive father. The prop was featured in Puppet Master 2 as an inanimate background decoration which never came to life or had any purpose in the story.
André Toulon has a punch doll in on display in his laboratory.
Trivia
Guy Rolfe who would play Toulon in four Puppet Master sequels was the main star in Dolls (1987)
Dr. Magrew also owns a similar Mr. Punch doll at his House of Marvels