| | |
| --- | --- |
| | This article needs more links. Please improve this article by adding links that are relevant to the context within the existing article. (November 2017) |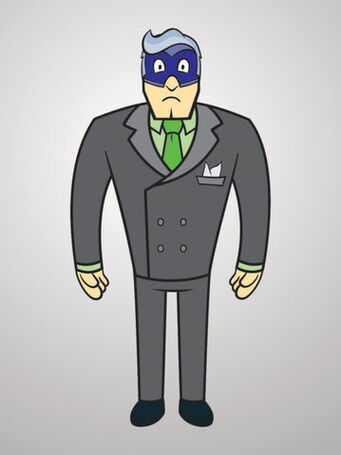 Mr. Big (real name Shelly Smalls) is a villain on the series WordGirl, voiced by actor Jeffrey Tambor. He is a self-proclaimed rich, evil corporate businessman, and CEO of the self-titled Mr. Big Industries (which has a golden corporate logo with Mr. Big's face on it). Mr. Big's specialty is mind-control, as evidenced in his company's mission statement: "We strive to constantly use mind-control." He is equivalent to Lex Luther from Superman.
History
He invented The Thing and The Mega-Thing, white cubic objects that do absolutely nothing, yet they fly off the shelves. Other Mr. Big Industries' products include: Mr. Big's Big Book of Big Words (a dictionary), the Wordsucker (a microphone), the Hero Sucker (a giant vacuum) and a Walk and Talk WordGirl Doll that does the opposite of the real super-heroine, like using the word "strategery" instead of "strategy" and enables them (via mind control) to buy useless spin-off products such as the Official WordGirl Tree-Shaker.
Relationships
His assistant, Leslie, carries out the majority of details (even some heavy labor and sidekick-monkey-fighting) for Mr. Big's evil plans, and helps to make his attempts at money-making schemes and villainous bids for City Hall successful, even if they never fully succeed due to WordGirl's efforts. ==
Community content is available under
CC-BY-SA
unless otherwise noted.