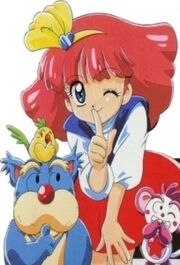 Minky Momo is the titular main protagonist of the classic 1982 Japanese anime franchise, Magical Princess Minky Momo (internationally known as Magical Princess Gigi).
Momo possess a magical wand that gives her powers, as she manifests on Earth as the daughter of a young childless couple who run a pet store and care center. Momo brings along her dog Shindobook, her monkey Mocha and her bird Pipiru. The Minky Stick in her pendant gives her the power to transform into an adult version of herself, complete with whichever skill set and outfit are appropriate for the situation at hand.
She was voiced in Japanese by Mami Koyama and in English by Jehan Agrama.
Plot
Momo is a princess of "Fenarinarsa", "the land of dreams in the sky". Fenarinarsa is the dwelling place for fairy tale characters. But it was in danger of leaving Earth's orbit and disappearing, because people in the earth lost their dreams and hopes. The king and queen of Fenarinarsa sent their daughter Momo to Earth to help them regain their dreams. Momo became the daughter of a young childless couple in the earth, accompanied by three followers with the appearance of a dog (Sindbook), a monkey (Mocha) and a bird (Pipil). On Earth, Momo takes the appearance of a teenaged girl. To help the planet regain its hopes and dreams, Momo transforms into an adult form of herself, with an occupation tailored to fit the situation (Airline stewardess, police officer, football manager, veterinarian). Each time Momo succeeds in bringing happiness to the person affected, a jewel appears in the Fenarinarsa crown. Once 12 jewels appear, Fenarinarsa will return to Earth's surface.
Later in the series, however, the task is left incomplete as she loses her magical powers and then her own life. She is reincarnated as a baby, the real daughter of the couple in the Earth, not the daydreamed. Now she has her own dream to realize. And she has a pink lizard named Kadzilla who helps her and her pets defeat once and for all an evil shadow who had been the source of the troubles of the people she had helped.
In Episode 46, he lost Magical Power and was dead in a traffic accident, but eventually he was reborn as Human in Earth.
The second series has a similar plot, however this Momo came from "Marinasa", the "land of dreams in the bottom of the sea". In this series, she was accompanied by Cookbook (dog), Lupipi (bird), and Charmo (monkey). She enjoyed a happy life on the Ground. Similarly to the previous series, she is adopted by a young childless couple became her parents on the Ground and she used her magic to bring happiness to many people.
Later in the second series, Momo and her family become refugees. She understand that people has few hopes and dreams now. She eventually meets the Momo character from the first series, and ultimately decides to save all the remaining hopes and dreams, using her magic against many social issues. Despite her efforts however, all magic and fairy tale characters begin to disappear. The King and Queen of Marināsa decide to escape from the Earth, but Momo elects to stay behind in order to fulfill her parents' dream of having a child, believing that hopes and dreams are never really lost.
Videos
Community content is available under
CC-BY-SA
unless otherwise noted.