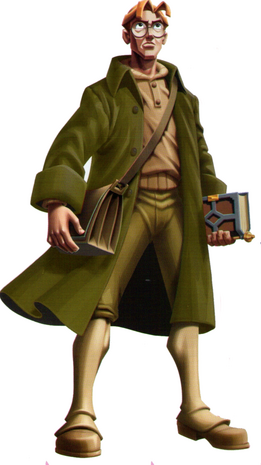 Milo James Thatch is the main protagonist of Disney's 2001 animated feature film Atlantis: The Lost Empire and its 2003 direct-to-video sequel Atlantis 2: Milo's Return. He serves as a linguist and cartography expert who directs the expedition to find the lost continent of Atlantis. He was voiced by Michael J. Fox in the first film and later James Arnold Taylor in the second and final film, who also voiced Walker in Danny Phantom (2004-2007).
Background
Having been orphaned by a railway accident in 1885, Milo Thatch was raised and educated by his grandfather Thaddeus Thatch (see related files: Archeological Expeditions led by, Diplomatic Relations brokered through, Patents held by, and Georgetown Incident).
Milo took after his grandfather with regard to his affinity and passion for languages and antiquities. Graduated Buford Beaumont High School at age 11, accepted (and declined) admission at Harvard, Yale, and Princeton Universities for advanced academic studies, 1895. Enrolled at Oxford University, 1896. Tried out for Rowing Team, 1899 (rejected); Archery Team, 1900 (rejected); Debate Team, 1900 (accepted); Cricket Team, 1901 (rejected); and Chess Team, 1902 (accepted).
Trivia
According to the 2-disc DVD, before falling in love and marrying Kida, Milo's first love interest was named Lisa McGrath.
Milo's complaint about how much he does not like carrots after puking over the ship used to launch the Ulysses could be a reference to how his voice actor Michael J. Fox is actually allergic to carrots, the line was ad-libbed by Fox, it wasn't supposed to be in the original script.
Milo's decision to remain in Atlantis at the end of the film was actually better for him since due to the fact that the film was set in 1914, when World War I was already taking place, it would be inevitable for every single man in the United States to be drafted into the war, something Milo was apparently against. Also, it's implied that Milo never liked living on the surface until the Atlantis expedition.
Milo's fighting during his final confrontation with Rourke was based on Jackie Chan's.
Milo is the eleventh King of Atlantis.