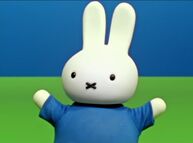 Miffy (Dutch: Nijntje, pronounced [ˈnɛiɲcə]) is a small female rabbit in a series of picture books drawn and written by Dutch artist Dick Bruna. The original Dutch name, "Nijntje", is a shortening of the diminutive konijntje, "little rabbit".
The first Miffy book was produced in 1955, and almost 30 others have followed. In total they have sold over 85 million copies, and led to two separate television series as well as items such as clothes and toys featuring the character. A feature-length film, Miffy the Movie, was released on 30 January 2013.
Four television series based on the character have been produced: Dick Bruna's Miffy Storybook Classics: The Original Series, which ran from January 1, 1984 until December 31, 1992 on PBS in the United States, Miffy: Colors, Numbers, and Shapes, which ran from January 1, 1996 until December 31, 1996 on Cartoon Network in the United States, Miffy and Friends, which ran from February 3, 2003 until August 10, 2007 on Noggin in the United States, and Miffy's Adventures Big and Small, which premiered 2 October 2015 on Nick Jr. in the United States.