Metal Sonic
is a robotic version of
Sonic the Hedgehog
built by the mad scientist Dr.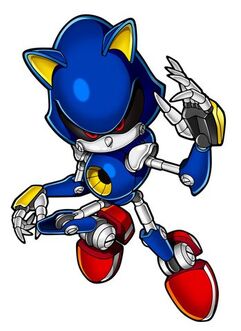 Eggman. He is the secondary villain in the Sonic the Hedgehog series and the main villain of Sonic Heroes; he is the second most recurring villain, only behind Eggman himself.
Metal Sonic is one of the main villains of Sonic CD. After Eggman attacks the Miracle Planet, Metal Sonic takes full control of it (as seen on holograms). Metal Sonic first appears to kidnap Amy Rose and escapes with her to the Stardust Speedway. Sonic (and Tails as the 2011 re-release is made canon to help understand Sonic 4: Ep 2 and Metal) later races Metal Sonic in the speedway and after an intense battle, Metal Sonic is defeated, sending him crashing into a wall and falling over the edge.
Notable aliases
Lavender Lace
Fuchsia Blush
Mr. Perkins
Bradley "Brad" Chiles
Melvin Sneedly
Professor Dementor
Bonnie Rockwaller
Henry Wu
Tess Tyler
Axel Turner
Bash Johnson
Brad "Bradley" Morton
Norma Watson
Helen Shyres
Juniper Montage
Indigo Zap
Sunny Flare
Sugarcoat
Lemon Zest
Sour Sweet
Vignette Valencia
Angel Dynamite/Cassidy Williams
Mr.E/Ricky Owens
Suri Polomare
Ashley Dewitt
Ella Pador
Sharpay Evans
Scarlet Overkill
Kelly Meeker
Arthur Light
Owen Grady
Dylan Gould
Helga Katrina Sinclair
Blix the Butler
Sludge the Dragon
Lisa Parker
Allison Cowley
Billy DeLois
Rodrigo
Professor Bannister
Samantha James
Gwendolyn James
Christine Montgomery
Gallery
Classic Metal Sonic (Generations).png Vengeful Metal Sonic.jpg Metal Sonic.png 305400.jpg|Metal Sonic as he appears in Mario and Sonic At the London 2012 Olympic Games
Community content is available under
CC-BY-SA
unless otherwise noted.