Jurassic World: Dominion Dominates Fandom Wikis - The Loop
Play Sound
Maximilian "Max" Goof is a fictional character who is the teenage son of the popular Disney character Goofy. He first appeared in the 1992 television series, Goof Troop as an 11½-year-old. He also stars in the spin-off movie, A Goofy Movie (1995) as at roughly 14-years-old and 18-years-old in its direct-to-video sequel, An Extremely Goofy Movie (2000), the direct-to-video, Mickey's Once Upon a Christmas (1999) and its sequel, Mickey's Twice Upon a Christmas (2004), and the 2001 TV series, House of Mouse (as a parking valet). Max is a playable character on the SNES video game, Goof Troop (1994), the PlayStation 2 video game Disney Golf (2002), and the PC video game Disney's Extremely Goofy Skateboarding (2001). He is voiced by Bobby Driscoll in the Goofy shorts, the late Dana Hill in Goof Troop, Shaun Fleming in Mickey's Once Upon a Christmas, and currently, Jason Marsden since 1995, who also voiced Thackery Binx in Hocus Pocus, with Aaron Lohr doing his singing voice.
In Goof Troop, Max, his father Goofy and their cat Waffles live in Spoonerville next door to Goofy's high school friend Pete, his wife Peg Pete, their son P.J. (who Max befriends), daughter Pistol and dog named Chainsaw.
In A Goofy Movie, a now teenage Max attends high school along with P.J. and other friend Bobby "Robert" Zimmeruski and is in love with a gorgeous girl at school named Roxanne.
In its sequel, An Extremely Goofy Movie, now 18 years old, he, along with P.J. and Bobby leaves home to attend college where he starts a rivalry with Bradley Uppercrust III and his fraternity, the Gammas and compete against them in their college's X Games. He also has to put up with Goofy as he loses his job and ends up attending the same college as him in order to get a degree for a new job but the two reconciled when Goofy helps Max's team win the X Games.
Skills and abilities
Physical abilities
Max is a professionally good at skateboarding, claiming years later that it was his "best event", and is also very skilled on rollerblades and above descent at riding a bike. When he isn't riding his skateboard, he is shown to be acrobatic doing a flip off a brick wall and pulling off a big stunt in the neighborhood while in his teens. On a few occasions, Max has survived severe accidents such as collapsing through a skateboard ramp (though he was on top of his best friend), crashing after the stroller he was in went downhill, and being grabbed by his father while skateboarding and falling off the ramp. In the video-game, he runs faster than his father. In terms of combat, Max can only take on a bully physically with P.J.'s assistance, and together, they put up a pretty good fight against Leech before being knocked out.
Mental abilities
Max has been shown to have some skills in mechanics, having built a machine to help his best friend which dispensed chocolate when he got a question right, and an egg when he got it wrong. Max even claimed in one episode that "most people are techno-wimps", with himself being an exception. He proved this when wiring up Pete's VCR and television set to a camera with a distant long cord. He also knew naturally how to plug cords to install a video-game, although not reading the instructions caused a temporary issue and it also caused Pete to fuse with a fly.
Miscellaneous skills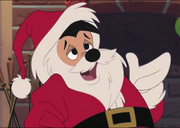 On some occasions, he has disguised himself and fooled a lot of people. On one of these occasions, he pretended to be his dad, noting that he "looked just like him", as he had been told. On another occasion, he disguised himself as an alien for a science project, then as a scientist. He has also disguised himself as a doctor, an elderly woman, a Powerline impersonator and even Santa Claus.
In one of the Goof Family episodes, after initially struggling to play his violin, he eventually finds out why he played so badly and plays in a perfect tune, just before one of the strings break.