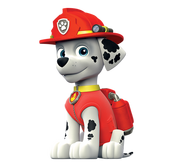 Marshall is a main character in the Nickelodeon/TVOKids television series PAW Patrol.
Personality
Marshall is a dalmatian pup who is seen to be silly and clumsy. Despite all of his silliness, he helps Ryder countless times during missions. His main color is red, given that is the color of his uniform (which normally features a fire helmet on duty), and pup pack. In mer pup form. His tail colour is red with yellow zig zags.
Trivia
In "Pups in a Fog", it is revealed that Marshall sleeps with a teddy bear.
It was revealed in "Pups Save a Toof" that Marshall is afraid of flying.
Sources