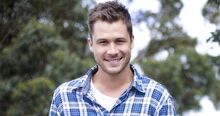 Mark Brennan is a fictional character from the Australian soap opera Neighbours, played by Scott McGregor. He made his first screen appearance on 30 August 2010. McGregor initially had a four-week guest contract with the show, but this was increased to six months. Shortly after, it was announced that McGregor's contract had been extended again to twelve months and that he would become a regular cast member. In February 2011, McGregor announced his departure from Neighbours, so he could pursue modelling opportunities in Europe. He filmed his final scenes at the end of April and departed on screen on 22 June 2011. On 4 November 2012, it was announced that McGregor had reprised his role and Mark made a brief return from 20 May 2013, before returning permanently on 5 February 2014.
After an attempt on Paul Robinson's (Stefan Dennis) life, Mark is introduced as the lead detective in the case. When he received conflicting information from the suspects he interviews, Mark struggled to identify the culprit. McGregor told a writer from SX News that he enjoyed being involved in the storyline, as he had never had that much responsibility before. To prepare for the role, McGregor chose to research his character's job. Mark was described as being handsome, charming and a perfectionist. He was dedicated to his job as a police detective and often put his work ahead of everything else. As a consequence, Mark struggled to balance his work and personal lives. McGregor stated that he shared some similarities with Mark and he enjoyed getting into character.
Mark's storylines often revolved around his relationship with Kate Ramsay (Ashleigh Brewer). He was initially wary of getting involved with Kate because of her ex-boyfriend, Declan Napier (Erin Mullally), and the age gap between them. Mark's focus on his work eventually forced him to choose between Kate and Paul's case. Following the end of his relationship with Kate, Mark had a one-night stand with her best friend Jade Mitchell (Gemma Pranita). He also faced problems at work after reporting a fellow officer for corruption, which led to his life being threatened. Mark left for witness protection during a special real-time episode. Mark later returned during an eclipse and tried to win Kate back. Following her death, he embarked on a relationship with Paige Smith (Olympia Valance) and three members of his family were introduced. The character has been mostly well received by critics and viewers during his time on the show.