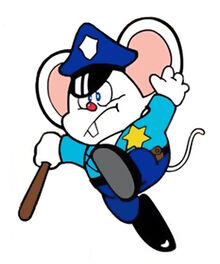 Mappy (マッピー?) is a fictional character and the eponymous protagonist of the Mappy series. He is a
anthropomorphic white mice who's a police officer that goes after the criminal cats Meowkies and their boss Goro.
He first appeared in Mappy, and more installments of the Mappy series: Hopping Mappy, Mappy-Land, Teku-Teku Mappy, Mappy de Puzzle, and Mappy Kids.