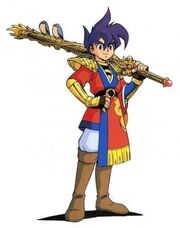 Manji-Maru Sengoku (戦国卍丸, Manji-Maru Sengoku) is a Character in Far East of Eden II: Manjimaru.
About
In my way, no enemy!
Kinu, the'm not alone! I our grief and suffering that have burdened the !! Kinu'm fellow even, Even when what § !! Yara broken is burdened from today all together, I'll walk together! So ... about to Come Kinu!You come for me !! Kinu ...! Fate Nante, !!!!! you've Kurae Na ... !!! Damn Nante any number is changed is do it !! Kinu ... !! fate Nante Na ... !! destiny in their own power
Boy is a descendant of the fire of the clan. 15 years old. My father was killed in the family of root and grew up in two people living with the mother · Oharu. It's Shirakawa village bully of fire multi-but, henchman is not only in Shirakawa Village, alpine village, it is also in Ushikubi village. It is from the village of Shu had been reluctant annoying as mischief shaved. But in the village most of the mother Otokoshu is not I the enemy, it would have been suitably decorated. Sometimes speak in persuasion of events of the opening and dark orchid punitive and Kinu. A type.
Gallerys
Videos
Far East of Eden II: Manji-Maru
Far East of Eden: Fengyun Kabuki Biography
Far East of Eden Kabuki Klash
Community content is available under
CC-BY-SA
unless otherwise noted.