| | |
| --- | --- |
| |105px]] | This article is a stub. You can help Fictional Characters Wiki by expanding it. |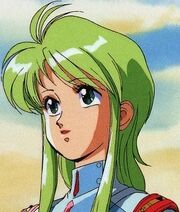 Major Lamidia McKenzie is the big-assed character of the Gall Force Earth Chapter. She's also really, really hot.
Profile
Race: Human
Affiliation: Kularis-class cruiser Star Leaf
Occupation: Bridge officer of the Star Leaf
Age: 23
Gender: Female
Key Features: Srawberry blond-ish hair, blue eyes, cute as fuck, huge butt
Husbando: Hiroyuki
About
Gall Force Earth Chapter
Major who listens to the situation of the Earth from Melody and advocates the input of Martian Army. A woman with compassionate affair with the United Nations president as his father. However, there are criticisms that "that I dream too much" in that idea. Rumy looks like a woman, but in the Earth Chapter appeared as an adult figure.
Gallery
Videos