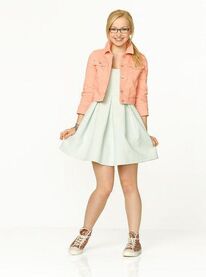 Maddie Rooney is the identical twin sister of Liv. Maddie also has two younger brothers and two parents that both works at the school that her and Liv attend. Maddie, an outstanding student and school basketball phenomenon whose popularity is on the rise, that is until Liv makes a triumphant return to their Wisconsin High School. Maddie is more of the tomboy when compared to Liv.
Trivia
Her birth name is Madison.
Maddie plays with her charm bracelet when she is nervous.
"Bam! What?!" seems to be Maddie's catchphrase
Maddie and Joey are the only two people in their household to wear glasses.
Maddie loves to win.She also likes to be competitive.
It is unknown why Maddie and her twin Liv got blonde hair, while her parents and brothers have brown/black hair.
It is revealed that Maddie is the younger twin as she was born on the 6th.
She loves chicken pot pie.
Her favorite restaurant is The Hoosegow.
Credit
Community content is available under
CC-BY-SA
unless otherwise noted.