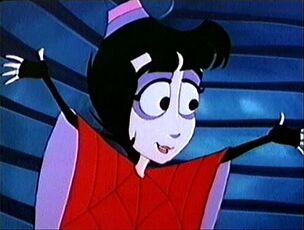 Lydia Deetz is the deuteragonist of the television series, Beetlejuice. She is Beetlejuice's best friend, and is played by Winona Ryder.
Similar Heroes
Trivia
Lydia is the first Goth to appear on cartoons and has inspired many Goth characters.
She is voiced by Alyson Court, who also played Loonette the Clown from The Big Comfy Couch.
Ally Sheedy, Jennifer Connelly, Brooke Shields, Juliette Lewis, and Molly Ringwald were considered to play her.
Gallery