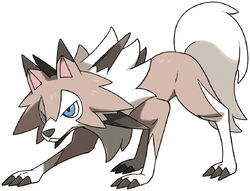 Lycanroc (Japanese: ルガルガン Lugarugan) is a Rock-type Pokémon introduced in Generation VII.
It evolves from Rockruff starting at level 25. The form it takes upon evolving depends on the game it was evolved in.
In Pokémon Sun and Ultra Sun, Rockruff evolves into Midday Form Lycanroc when leveled up in the day.
In Pokémon Moon and Ultra Moon, Rockruff evolves into Midnight Form Lycanroc when leveled up at night.
In Pokémon Ultra Sun and Ultra Moon, a Rockruff with Own Tempo evolves into Dusk Form Lycanroc from 5 pm to 5:59 pm in in-game time (which is opposite the real time in Pokémon Ultra Moon).
When properly raised from a young age, Lycanroc will become a trustworthy partner that will absolutely never betray its Trainer. Its quick movements confuse its enemies. Well equipped with claws and fangs, it also uses the sharp rocks in its mane as weapons.
Gallery