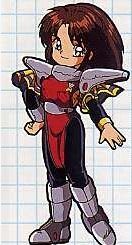 Lucia Cabrock is a Main Protagonist of the Gley Lancer.
About
Age 19's Girl who has Pilot Training School as After Graduation, Earth Federation Army 2nd Fleet Attacking Carrier Aircraft Ariel, Joining One 's Warship as Pilot Team Member. She has Soldier in Father and was raised on One Handsome to Mother from an early age. Sync Tim Fordy, Edy Wilson of Pilot Training School also has Joining One's Warship on Within The Ship. Pilot Team's Captain is Ruth Bernard. Father's Ken Cabrock is the Commander of Earth Federation Army 1st Fleet, he runs Flagship Oberon and is about the Authority of Universe Inside The Solar System's Monitoring. Captain of 2nd Fleet Attacking Carrier Aircraft Ariel is Gran Rafred of Grand Father of Lucia. Although I often show Strong-Minded One Side, in fact Very has Easily Moved To Tears On The Other Hand. Class is Second Lieutenant, but because Tim is Childish, Mature Side stands out.
Gallery
Videos
Community content is available under
CC-BY-SA
unless otherwise noted.